J1000 PKS1 WAVESHAPER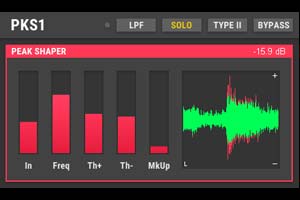 Uncategorized
Simple peak shaper with separate thresholds for positive and negative phase. Works in full range, low-pass or high-pass filtered mode, with three types of peak shaping curve.
Read More
Dynamic parametric equalizer that has two gain controls per filter – one for high levels of input signal, other for low. Input signal can be scaled to utilize it's range completely.
All other controls function the same way as in standard parametric EQs.
Built for mixing purposes, especially for instruments and sounds with wide and varying dynamic range.
GET DQ65 NOW
Related Posts
Classic chorus effect with four delay taps, two per L/R channel, and adjustable resonant cut filters. Each delay tap is modulated by advanced LFO which has less obvious repetitive effect on processed signal than basic oscillator shapes.
GET CH4D NOW
Related Posts