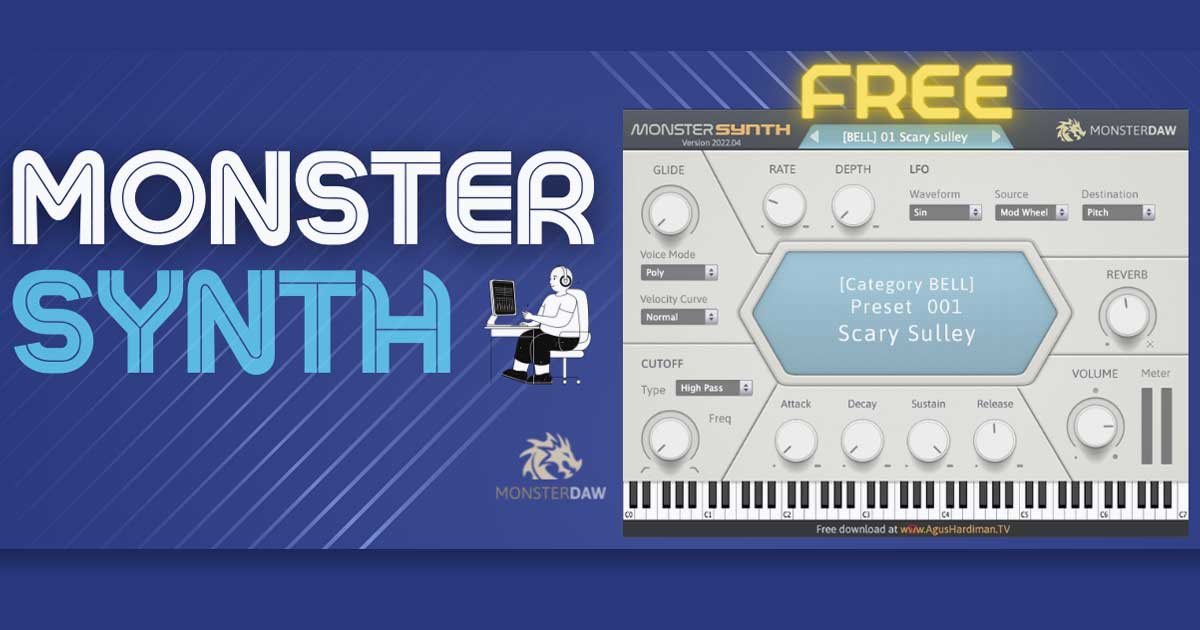 Monster Synth
Free 64-Bit Synth VST and Audio Unit Plugin For PC & Mac...
Free VST Plugin Features
Dozens of cool-sounding synth presets.
Full 88-notes synth sound from A0 to C7 or Note Number: 21 to 108
Parameter Automation to dynamically change sounds that fit your music
Soundbank/Presets can be placed on an external hard disk, no need to place it in a startup drive.
Attack, Decay, Sustain and Release settings of each sound to tailor to your needs
Parameter/Knob value reset by double-clicking it.
Glide or Portamento Mode when using Mono or Legato Voice Mode. Notes: Glide/Portamento doesn't work in Poly Voice Mode!
Velocity Curve to tailor the way you play (harder or softer sensitivity depends on your taste).
Rate, Depth, and LFO settings with sound sources and destinations and waveform shape.
A filter with High Pass or Low Pass types and Frequency value.
Master Reverb and Master Volume.
Big LCD of Preset Name and Preset Category.
A new expansion sounds preset will be released/updated regularly every now and then.
Plugin format: Windows 64bit DAW, Mac VST, and Mac Audio Unit (AU). If you're a Pro Tools user, please use BlueCat Patchwork to use this VST in your PT.
Download Size: 795mb