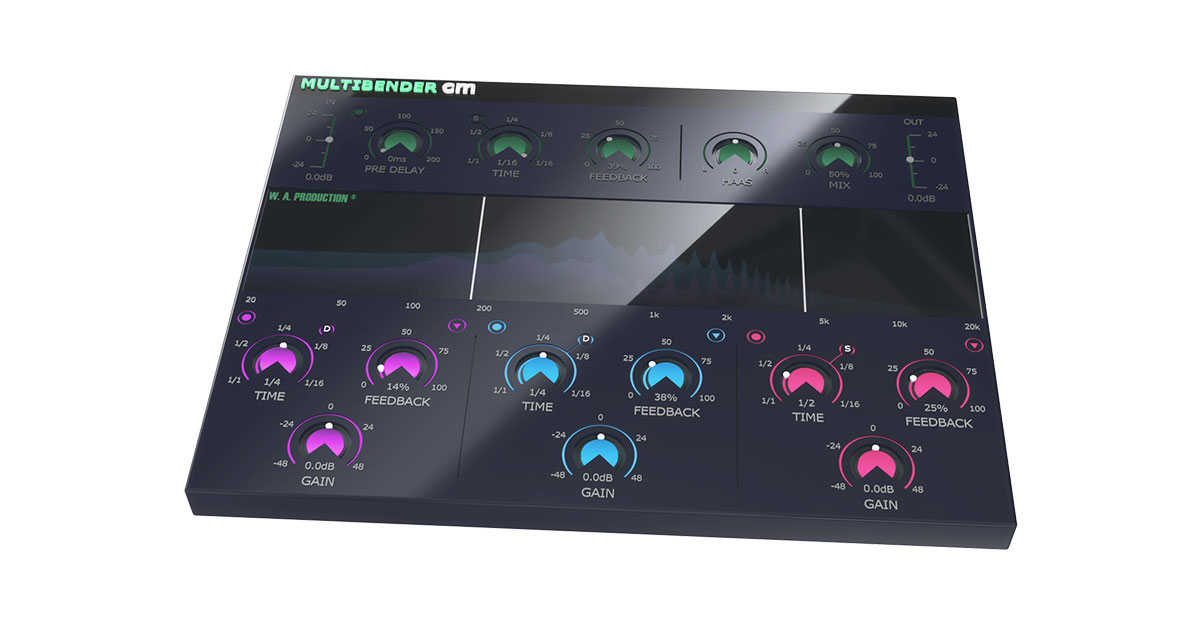 Multibender CM
Free Delay VST Plugin From W.A. Production & Computer Music...
W. A. Production together with Computer Music is proud to share the free version of our MultiBender delay plugin, MultiBender CM! With delicious multi-band processing and four simultaneous delay modules, MultiBender CM is your tempo-synced solution to creative delay processing. Conjure intricate percussion patterns, wild ping-pong synths, and grooving leads with just a few clicks.
Multiband Madness
The delay processing is split into three separate modules, which can all be adjusted independently. Drag the crossover points in the waveform display to quickly set up the frequency ranges of the three bands. Then choose a delay time (including dotted and triplet feel), feedback level, and gain adjustment for each. This means you can have a short delay for your low end and longer ones for mids and highs to send them bouncing around the room. On and off buttons for each band allow you to disable any unwanted processing, just in case you want to keep your bass line tight or mid-range clean.
Saturate, Crush & Detune
Standard delays for each of the three bands sound complex and expansive, but you can push the effect to the limit with three effects for each band. These run entirely independently and include saturation, bitcrushing, and detuning. Apply as much or as little of each process as you like to create different audio effects. Try introducing sparkling highs with saturated harmonics in the upper-frequency range. Detune the midrange delay for a wavering analog feel in the body of the sound. Make your bass line scream with crushed low end.
Looks are everything
The main window shows exactly what's happening to each of the three bands as the audio passes through the plugin, valuable visual feedback to keep tabs on your signal transformations. The three colored waveforms clearly display the effect of each module's processing allowing for accurate monitoring and surgical shaping at every stage of the chain.
Features:
4-stage delay like you've never heard before
Independent multi-band processing for high, mid & low frequency ranges
Saturate, Crush & Detune for each band
Straight, Dotted & Triplet time
Click & pop-free bypass
Waveform graph for accurate visual feedback
System requirements
Windows 8 and later (32 / 64 bit)
macOS 10.15 and later
AAX – ProTools 11 or higher
Formats: 32-Bit and 64-Bit VST2/VST3/AU/AAX plugin formats for Windows & macOS