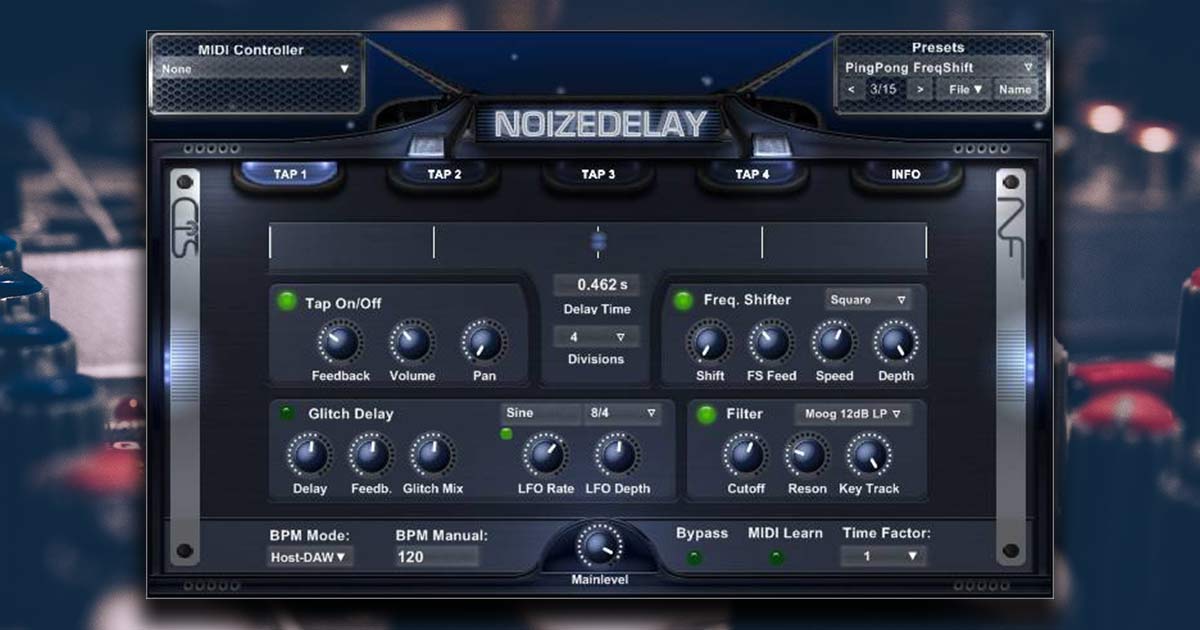 Noizefield Noizedelay
Program four different delays at the same time...
With NoizeDelay you can program four different delays at the same time. NoizeDelay is the creativity weapon for your music production and has been developed by CPS. Now you don't need to be stuck in a rut anymore. Be creative and use it for different effect purposes, like a dub-delay, an experimental modulation-delay, a ping-pong-delay, filter- or glitch-delay.
Each of the four taps works individually, so each tap has its own timeline. You can set the delaytime on the timeline by dragging the blue trackball. If you set the blue trackball exactly to the white barlines, called divisions, then NoizeDelay will sync to the tempo of the host. In the optionbar at the bottom, you can synchronize the BPM to the DAW, if you set the BPM-mode to "Host-DAW", otherwise you can manually type in a BPM value of your choice.
Please note, that a change of a parameter, is just a setting only for the selected tap. If you change the settings in the optionlist, the settings will be valid for the whole preset.
NoizeDelay is a 32-Bit VST-plug-in only available for PC/Windows systems (Windows XP (SP2 or later), Windows Vista, Windows 7 or Windows 8.1) It's recommended to use a modern PC with 4GB RAM or more with a fast CPU speed and a dual/quad core processor or higher). You also need a VST-compatible host sequencer/DAW like Cubase, Nuendo, FL Studio, Orion, Ableton Live, Samplitude, MusicMaker etc… Please make sure that you put the .dll-file of that plug-in in your local VSTPlugins folder.