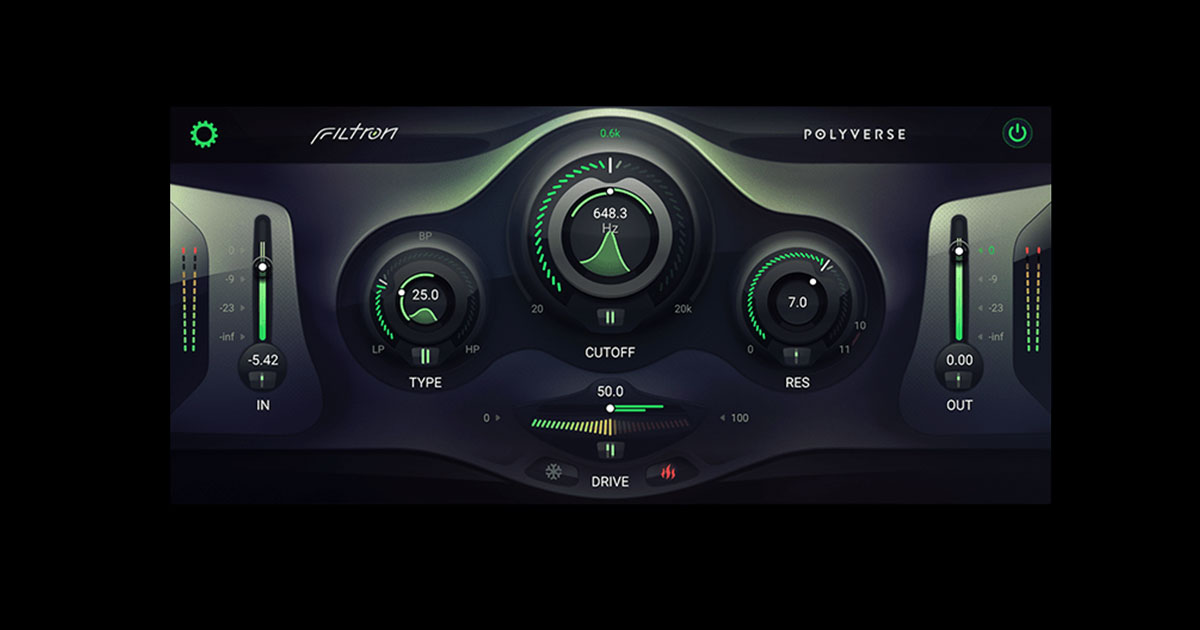 Polyverse Music Filtron
Filtron is a free variable filter VST plugin for Windows and OSX...
STATE OF THE ART DIGITAL FILTER
Filtron is a 12dB state variable filter that can smoothly transition between lowpass, bandpass, and highpass. It is capable of self-oscillation with resonance levels that can reach up to 11! Filtron also features a fat sounding internal saturation algorithm and a sizzly post overdrive with two modes to choose from: cold and hot.
FEATURES
12db state variable filter
Transition smoothly between Lowpass, Bandpass, Highpass
Self-oscillating resonance
Fat Internal saturation
Post overdrive with Cold and Hot modes
Stereo Modulation via CV
Integrates with Gatekeeper
Optimized for audio rate modulation
State of the art zero delay filter design
Internally oversampled
100% FREE
Filtron's parameters can be modulated via sidechain by CV generators such as Gatekeeper. Each channel in a stereo pair is treated as a separate modulation source and can be split to stereo. Filtron is also optimized for audio rate modulation.
Filtron's internal saturator has a warm soft sounding curve. The filter sounds different depending on the input level.
It also has a powerful overdrive on it's output, with two modes: cold – a screaming overdrive for those TB-303 riffs and hot – a warm and fuzzy overdrive for the rest 😉
Experiment with Filtron in your effects chain today!
Supports VST2 / VST3 / AU / AAX plug-in formats
For Windows 64bit and OSX 10.9+ 64bit