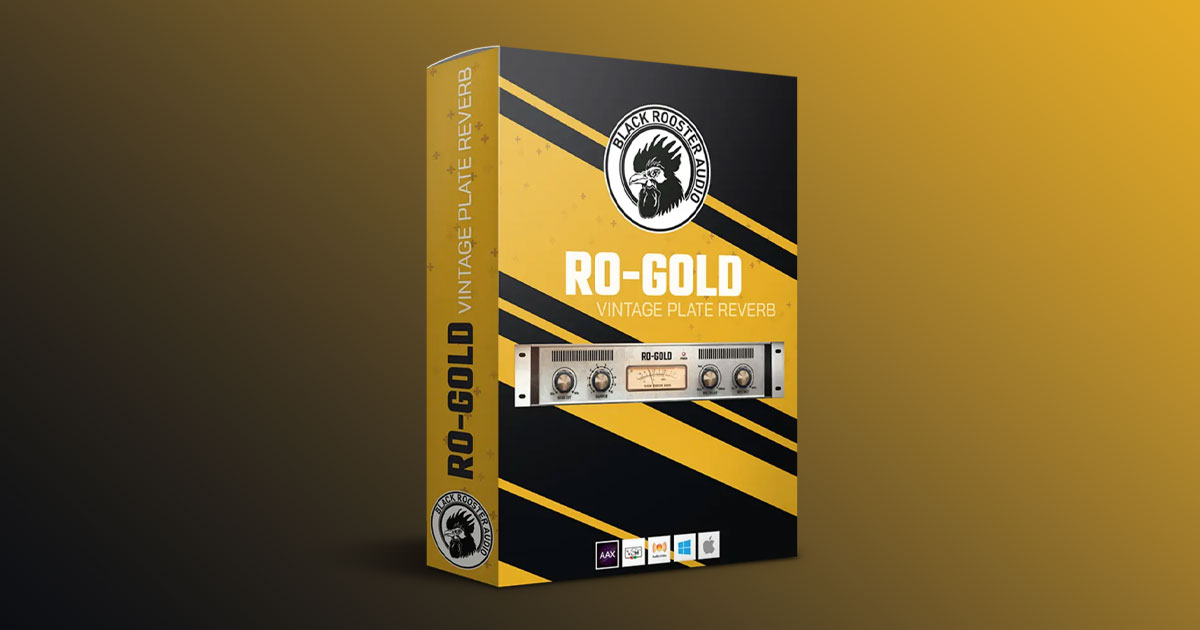 Ro-Gold Vintage Reverb
The most luxurious vintage room effect meets modern-day features...
This physically modeled plug-in captures the true tone of a solid gold plate reverb, turning any signal into 24k magic. The most luxurious and exclusive vintage room effect meets modern-day features for the highest-quality sound and optimal usability.
A brief history
The RO-GOLD was faithfully modeled after an iconic hardware classic, and upgraded with a 24k gold plate, for the most luxurious vintage reverberation experience.
Our plate simulation approach allows us to authentically capture the analog unit's sound and feel as closely as possible while still including a few unexpected twists – all in the beautifully designed, easy-to-use package that is the RO-GOLD.
Engineers have experimented with foil and metal plates to reproduce expensive reverb rooms since the 50s. However, installing and controlling a real metal plate reverb has never been easily attainable, nor has it been readily available to every producer or small studio – especially when it comes to real gold plates.
As it often happens, this type of hardware remained exclusive to a select few elite studios for a long time. Nevertheless, plate reverberation is audible in many 50s and 60s hit songs, where engineers extensively used this technique.
Not only does the RO-GOLD bring you the sound of these sought-after hardware classics, but it also captures the true tone of a solid gold plate, which would cost millions to recreate in real life. This 24k gem allows you to set up your own retro room sound, that is both warm and mellow. With only a few, simple-to-use parameters, it has never been easier to achieve an authentic vintage reverb sound.
Retro Plate Sound
This plug-in was inspired by and physically modeled after the EMT 140, among other classic plate reverbs, giving you the best out of each classic piece of hardware in one compact yet powerful package.
Vintage Luxury
This solid gold model is any plate-enthusiasts dream – you can now recreate the sound of a large plate reverb built out of one of the most luxurious materials in the world, right in your DAW, for free.
Simple & Easy to use
We kept this plug-in as simple as possible, making it quick to use and highly effective. With classic pre-delay, damper control, bass cut & a modern day dry/wet control you can easily dial in your dream reverb.
System Requirements
MINIMUM SYSTEM REQUIREMENTS (MAC)
Intel Core CPU or Apple SIlicon M1/M2 Processor
1GB of RAM
Mac OSX 10.9 or newer (M1 supported)
VST, AU or AAX compatible host (64bit)
Display resolution of 1280×1024 pixels or more
MINIMUM SYSTEM REQUIREMENTS (WINDOWS)
SSE2 compatible processor (Intel Core CPU recommended)
1GB of RAM
Windows 7 or newer
VST or AAX compatible host
Display resolution of 1280×1024 pixels or more