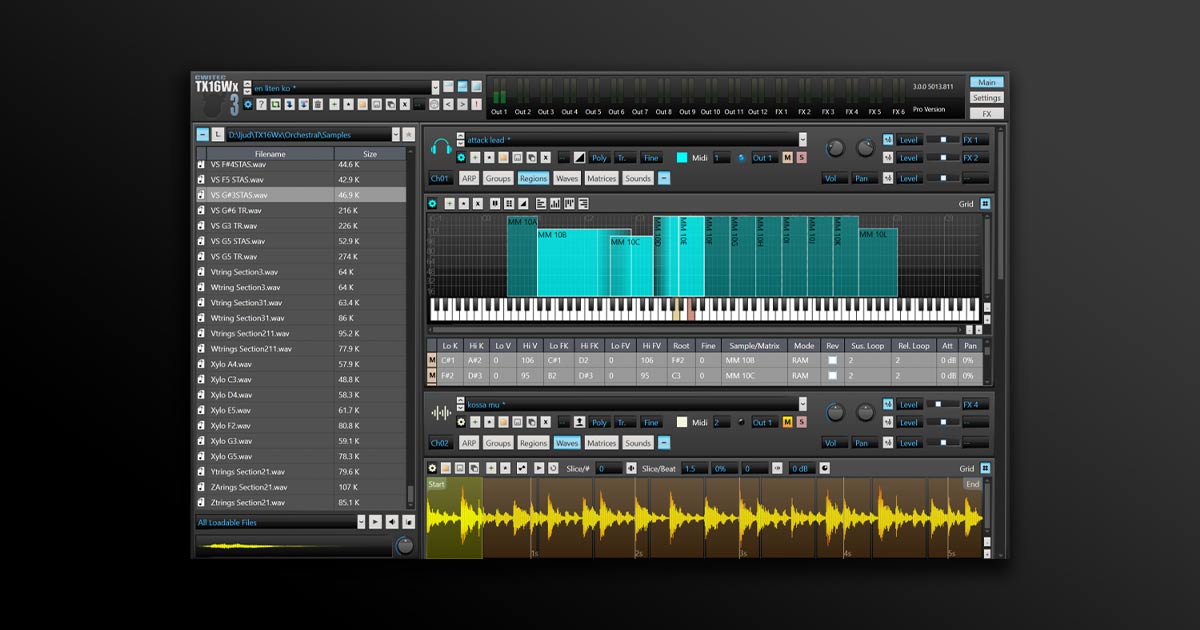 TX16Wx Software Sampler
Free Sampler Plugin For PC & Mac...
TX16Wx Software Sampler is a plug-in for the creative musician, inspired and modeled after the best hardware samplers with all the ease and new exiting features of modern software.
Base features
Re-sizable, flexible GUI

Full Undo/Redo support
Built-in file browser with sound playback and wave/program preview
Fully skinnable
Program icons

Dual playback engine

Direct from disk – supports massive sample sizes
RAM playback – sample accurate loop modulation

Unlimited multi-timbral operation
128 voice polyphony

Two 6/12/24 dB resonant filters per voice
Low-, high, band- and all-pass
Notch, peak, low- and high shelf
Two sync-able LFO per voice
Two Modulation Envelopes per voice
Three Step Sequencers per voice
Modulation matrix with 16 modulation slots per voice
Three-way cross modulation (variable modulation strength)
Variable keyboard scales
Multiple trigger modes
Mono/Poly/Legato operation
8 choke groups per program
Per-sample loop start/end/direction modulation
Polyphonic glide
Multiple glide modes
Polyphony limit per channel
In-voice unison with detune/pan/start shift
MTS-ESP micro tuning support
VST micro tuning support

Built-in oscillators

Multiple waveforms + noise
Pulse width modulation.
Mix synthesized and sampled content.

Built-in sample editor

Automatic Loop Slicing + slice mapping
Actually Samples!* Record audio straight into the sampler from host (Requires routing/input capable host).

Built-in MIDI generator and automatic sample cutter for quick re-sampling of external or internal content

Automatic pitch detection
Loop tools

Loop auto detector
Loop overlay

Non-destructive, interactive loop cross fading
Multiple loop definitions per wave

Individual loops for sustain/release per mapping

Trim, cut, duplicate
Pitch detection
Normalize
Reverse
Tempo detection
Snap to zero

Graphical keyboard mapping editor

Automatic sample layout
Flexible drag & drop-based group edit
Cut&paste or drag and drop move and copy between groups and programs

Quick select of sound data via MIDI
Drag & drop of samples/programs/performances/banks
Multiple outputs

12 Stereo outputs, 8 of which can be switched to mono
Individual output mapping for key groups (drums)

16 mappable controllers for modulation
128 mappable VST parameters for modulation
All sound parameters can be automated or mapped to MIDI controllers
Preview loaded programs and samples in your song before loading
Reads multiple sample and bank formats

WAV/AIFF/AIFC
SoundFont 2
SFZ Files
Logic EXS
Akai AKP
Ogg Vorbis
FLAC
REX/REX2
Typhoon compressed AIFC files
Original Yamaha OS Wave files

100% documented XML-based sound file format

Anyone can write conversion tools.

Saves data in DAW project directory
Low CPU usage
Fully native, optimized for SSE2.
Multi platform

MacOSX 10.7+ AU/VST2 (64bit)/VST3 (64bit)/AAX
Windows 7+ VST/VST3/AAX support

64-bit support
Nice sound!
*) Host dependent feature. Not all hosts are capable of routing audio to instruments. Please consult your DAW manual to determine if this feature is available.