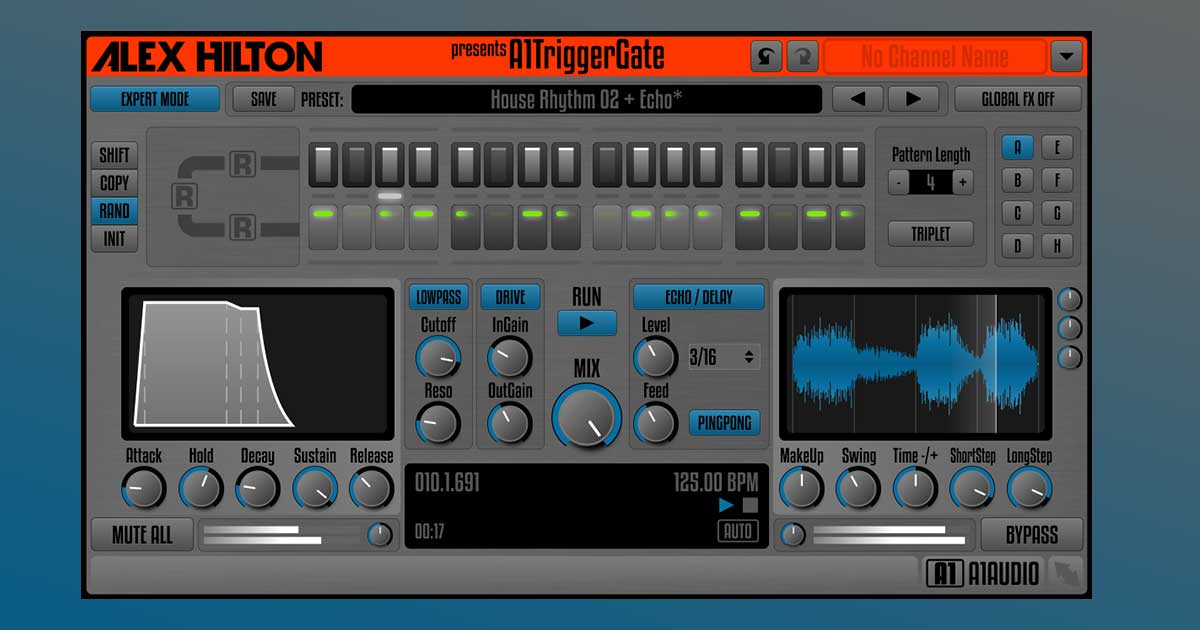 A1 TRIGGERGATE
Free Trancegate plugin for PC & Mac users...
Each section of step length buttons & step volume faders represents one beat of your pattern sequence. You can choose between 'NoStep', 'ShortStep, 'LongStep' and 'StepLink' by simply pressing a step length button. Each beat consists of 4 steps (1/16 notes in 'Normal Mode') or 3 steps (1/8T notes in 'Triplet Mode') and each step has its own step volume fader above to dial in its relative level.
Integrated FX
The integrated FX (Lowpass Filter, Drive/Distortion and Echo/Delay) are designed as easy as possible. No vast amounts of parameters to dial in to get the desired effect on your sound. Simply turn it on and tweak it a little and you're ready to go !
Of course there is a 'Global FX Off' switch to step through all presets without any of the integrated FX. Professional producers will appreciate that little feature.
Get some 'random' inspiration !
If you are looking for the right groove or just an interesting rhythmic pattern, sometimes it is a good way to let my plugin provide you with some random patterns. Just press 'random' several times and use the sequence you like. It's simple as that !