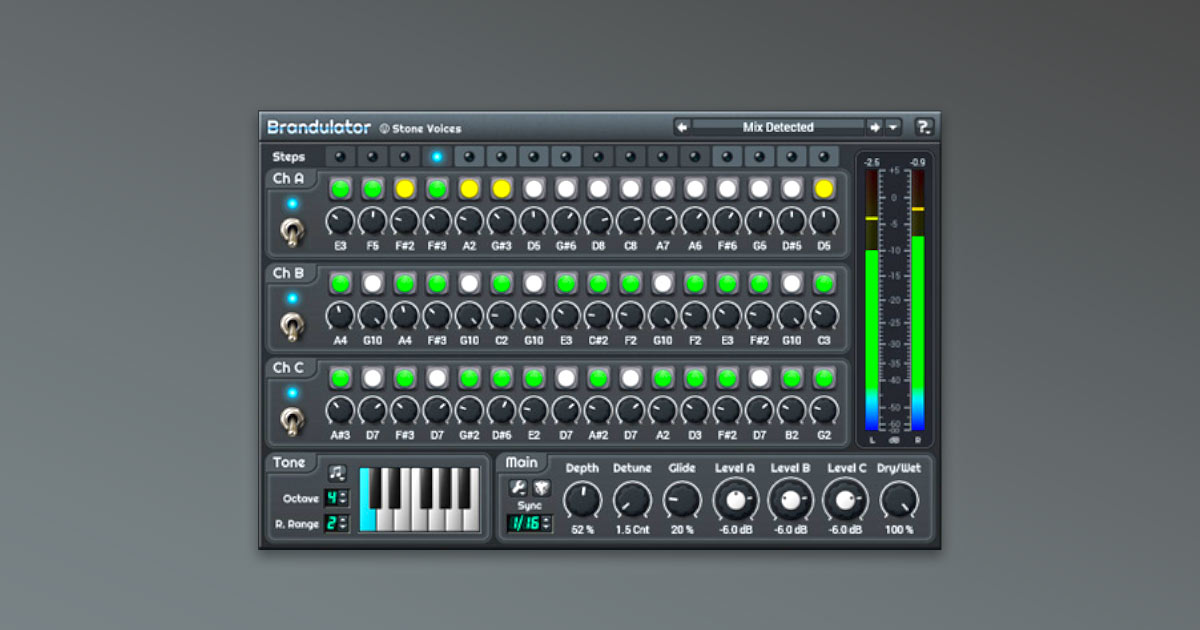 Brandulator
Brandulator is a complex sound processor...
VST-plugin "Brandulator" is a complex sound processor that allows you to get quite interesting combined effects – comb-filter, trans-gate, vocoder, wah-wah, various types of modulation (chorus, flanger, phaser, ring, etc.). The work of this plug-in is based on dividing the original signal into regular intervals, in accordance with the tempo of the musical composition, to each of which a certain type of processing can be applied.
To expand the functionality of the plug-in, there are three individual channels of sound processing, with adjustable volume and panning, which allows you to create a realistic stereo sound picture. Each channel has 16 pairs of mode / tone controls called steps. It is possible to set the parameters of the steps both individually and in a group method. Also, this can be done both in manual and in automatic mode, in accordance with the required harmonic law, of which there are about three hundred different scales in the plug-in's database.
Features:
Low CPU usage.
64-bit sound processing (double precision).
Group editing of parameters.
Meters controls of output levels.
106 factory presets.
Functions for working with presets and banks.
Requirements:
Windows 7, 8, 8.1, 10.
DAW with support for VST plugins.