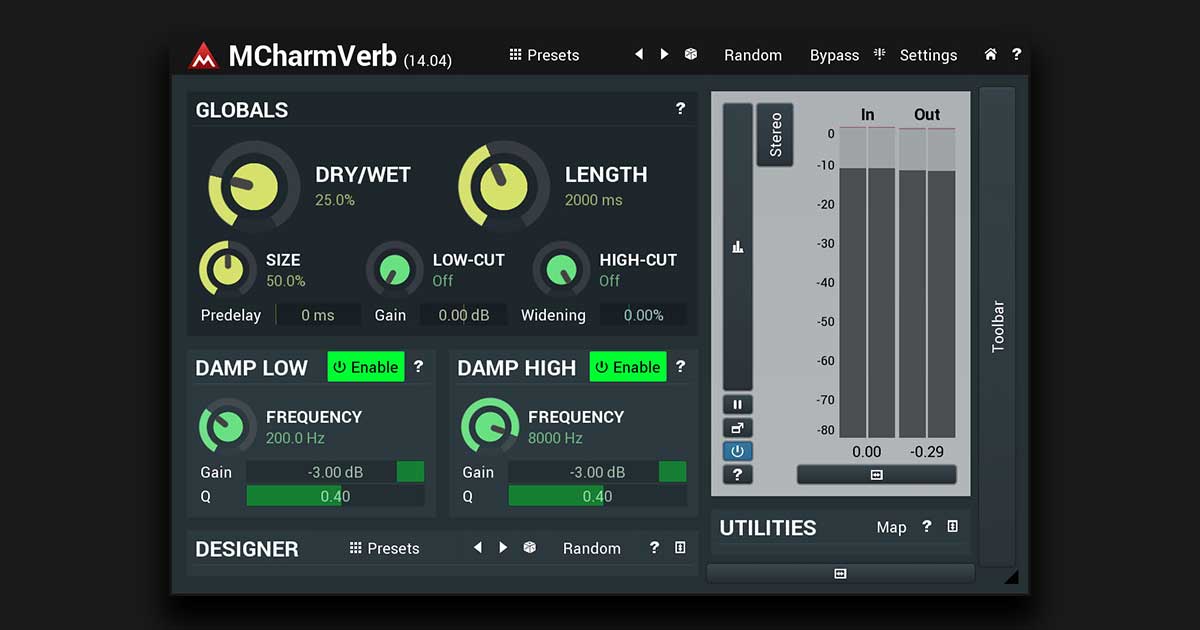 MCharmVerb
MCharmVerb is a great sounding lush algorithmic reverb based on the MTurboReverb engine.
Advanced GUI
User interfaces need to be fast, simple to use and be easy on the eye. Everyone's needs can be different, so flexibility is important. Melda solves this with the most advanced GUI engine on the market.
Stylable: From vintage hardware to super futuristic. You can choose the colours and style of the GUI, making our plugins personal to you.
Resizable: All Melda plugins are freely resizable. Many also feature popup windows. So no matter how many screens you have or what size they are, you will be able to arrange your plugins to keep a focus on what is important.
GPU Accelerated: All the elements in the GUI are accelerated by your GPU. This makes the graphics lightning-fast and frees up extra power for your CPU to focus on the audio.
Stunning Quality: Melda plugins support HDPI and Retina displays, so you will experience beautiful crisp resolutions. With adjustable frames per second up to 100, you will not miss a thing in our detailed analyzers.
Unique visualisation engine with classic meters and time graphs
Your ears should always be the main tool, but they are not the only way to judge your audio. Visual aids can be incredibly useful for a variety of reasons. Melda's comprehensive metering system is extremely flexible and delivers you accurate information when you need it. From classic meters to time-based graphs, you will see important visual feedback including; Input, Output, Stereo width, Loudness, Waveforms, Bands, Gain reduction and Sidechain, and some plugin dependent meters.
Multiparameters
MCharmVerb lets you control multiple parameters using a single so-called multiparameter. This may not only come handy for automation for example, but the multiparameters are very smart units and you can use them to smartly morph between banks of settings for example. All in the name of creativity!
Automatic gain compensation (AGC)
Most plugins change loudness of the output audio, which makes browsing presets inconvenient, not mentioning randomization. MCharmVerb includes automatic gain compensation, which quickly adapts to current settings and ensures the output sounds as loud as the input. This even protects you from thinking that something sounds better in cases it is just louder.
Safety limiter
Some plugins can intensely increase gain when exposed to specific audio materials. MCharmVerb provides a safety brickwall limiter, which ensures the output stays below 0dB and prevents your equipment and your ears from potential danger automatically.
MIDI controllers with MIDI learn
MCharmVerb contains a powerful MIDI processor, which listen to MIDI controllers and MIDI keyboard and control any parameters realtime.
64-bit processing and an unlimited sampling rate
MCharmVerb provides the maximum audio quality you can get. It uses 64-bit audio processing and can handle any sampling rate. It does not make much sense to go over 192kHz, but if you think it is a good idea, the plugin can do that.
Extremely fast, optimized for newest AVX2 and AVX512 capable processors
Computers are now extremely fast, but the algorithms are more complex and projects bigger, so we still need to use the processing power with care. MCharmVerb uses the fastest algorithms, takes advantage of the newest processor capabilities, lets your GPU handle the graphics, and shares the resources with other MeldaProduction plugins. The plugin is among the fastest on the market, yet it provides the best possible audio quality.
Global preset management and online preset exchange
MCharmVerb presets are carefully stored in a system database and you can quickly access them from any project in any host. The plugin can automatically share your presets and download presets of other users from our servers. We are building a community and you can be a part of it!
Supports VST, VST3, AU and AAX interfaces on Windows (both 32-bit and 64-bit) & Mac (64-bit only)
MCharmVerb supports all major hosts on both platforms. Check system requirements for information about compatibility and installation.
No dongle nor internet access is required for activation