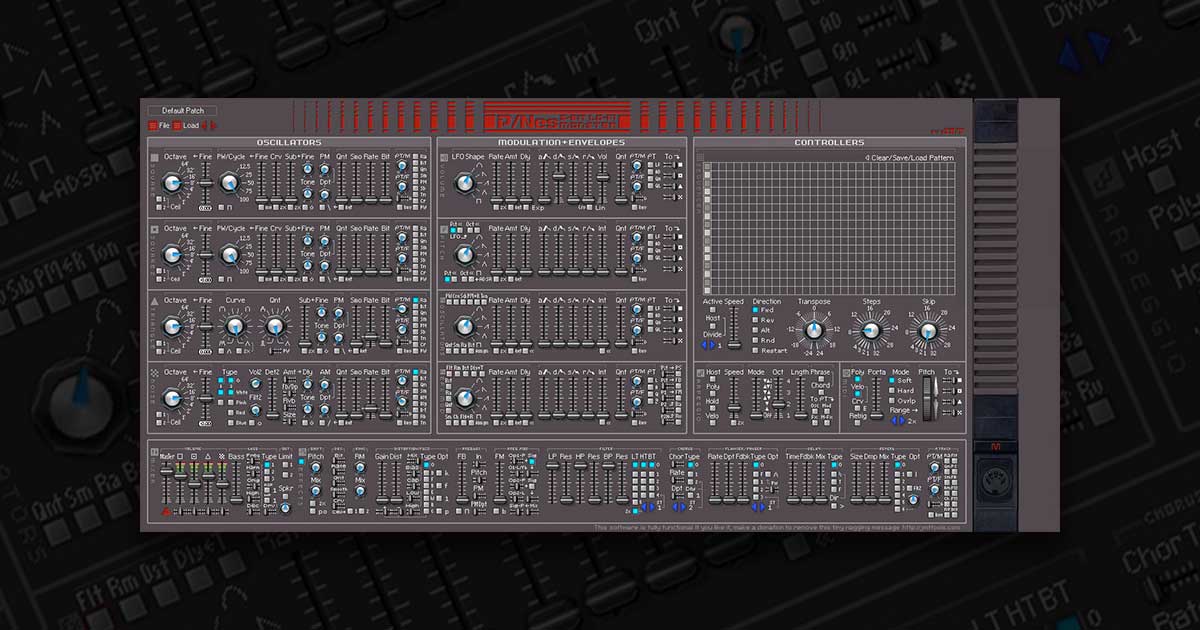 P/NES 8 Bit Monster
Authentic 8-bit sounds like the original Nes and other retro gaming systems...
The P/Nes 8-Bit Monster is a synthesizer, or a Nintendorgan, inspired by the 2A03 chip used in the Nes sound architecture. It can produce authentic 8-bit sounds like the original Nes and other retro gaming systems or arcades, but it can also do much more with its expanded sound design. This is not just a basic simulation, this is a full blown synthesizer, my dream circuit-bent Nes.
The P/Nes is rooted in pitch tracking. Pretty much every effects and modifiers can be controlled by the pitch/note being played to create unique sounds and phrases.
The P/Nes also offers a great amount of control over every aspect of the sound shaping and modulation, all while keeping things simple and accessible. Every settings are visible within the same window, there are no hidden sub-menus.
Great for making old school arcade sounds, chiptune, or any other style of music you damn young hippies are playing these days.
Features :
Four oscillators :
3x Waveform oscillators (Square/Pulse, Triangle, Saw, Sine), with PW/Cycle, Curve, Sub, Quantization, Smoothness, Bit and Rate controls
1x Noise oscillator, with Type (White/Pink/Red/Blue), two different noise algorithms, with Detune, Delay, Reverb, Quantization, Smoothness, Bit and Rate controls
Pitch tracking on every controls.
Four separate LFO and ADSR controls with Delay and Quantization, with pitch tracking modulation and routing assignable to each waveform (except effects) :
Volume
Pitch
Timbre/Oscillators
Effects
Arpeggiator with 5 modes over 4 octaves which can be synced to host
32 Steps Sequencer with Direction, Transpose, Steps and Skip controls. Can load and save patterns and can be synced to a host
Effects (which can be combined or disabled entirely if you wish to keep a pure Nes sound)
Bit Crusher and Rate/Frequency Decimator
Quantization and Smoothness
Curver
Pitch Shifter
Ring modulation
Distortions/Fuzz
Re-synthesis/Freqbox
Frequency Modulation (FM)
Filters (Low pass, High pass, Band pass)
Chorus
Flanger/Phaser
Delays, with Forward/Backward controls
Reverbs
Bass enhancers
Speaker simulation
Limiters
Polyphonic or Monophonic with Portamento (mono only)
Velocity sensitive
Available in both Mono and Stereo (where each oscillators can be panned separately).
Available for PC systems only.