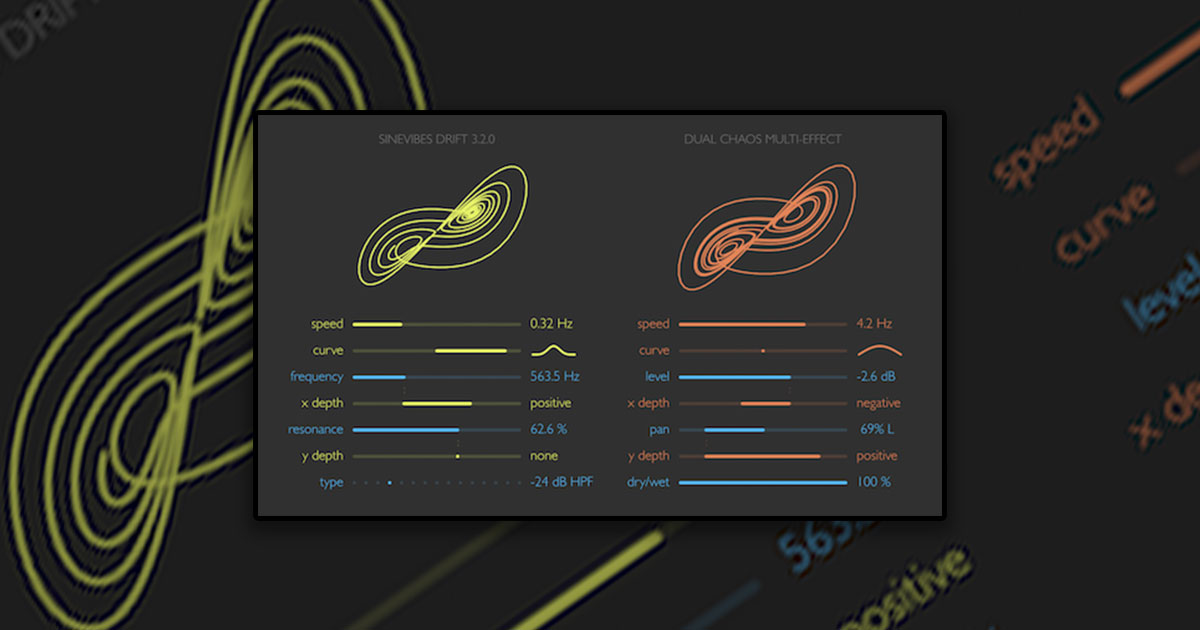 Drift is a multi-effects processor based on two independent Lorenz chaos oscillators. These systems are used by scientists to model convection in liquids and gases: they produce chaotically fluctuating, never-repeating signals that are mutually correlated. Drift uses one Lorenz oscillator to apply two-dimensional modulation onto an effect unit with filters, phasers and phasers – and another such oscillator is applied onto output level and stereo pan. With this, Drift is able to give any sound the dynamic characteristics of wind gusts, air turbulence, ocean waves or water bubbles.
All of Drift's functionality is neatly presented by an intuitive interface wholly built with color-coded graphics. It features graphic representations of the two Lorenz oscillators as well as subtle animations for all controls, for a pleasant, natural user experience. Together with careful parameter calibration, this makes Drift an always enjoyable, yet very musical and productive tool.
Sound engine
Two Lorenz chaos oscillators with adjustable speed and output curve shaping.
Multi-effect unit featuring 15 different filter, phaser and flanger algorithms.
Four modulation destinations: two effect parameters, output level, and stereo pan.
Interface
Real-time graphics for Lorenz chaos oscillators.
Color-coded controls with lightly animated transitions.
Fully hardware-accelerated rendering with support for Retina screen resolution.
Compatibility
Works with any application that supports Audio Unit effect plugins. Supports OS X 10.6 or later running on 32 or 64 bit Intel Macs.