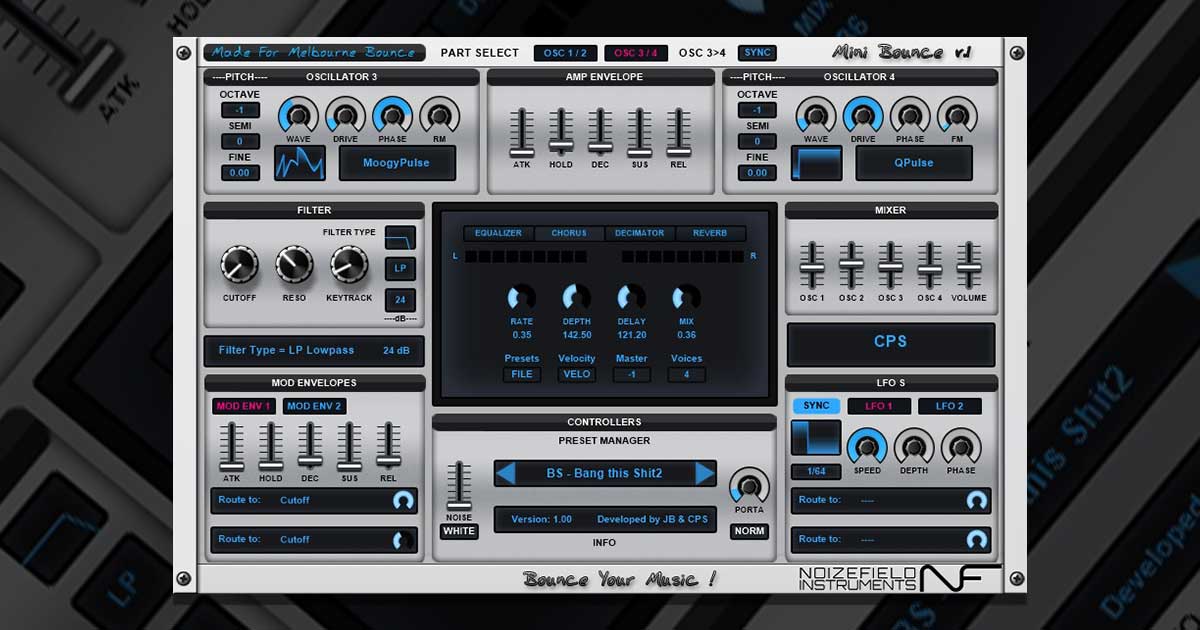 Days Listed: 264 days
90 Views
The Swedish developers of Infected Sounds (Carl and Johan) have released their new synthesizer-plugin Mini Bounce. Mini Bounce is a virtual analog synthesizer for modern music styles, specifically for Melbourne Bounce, Future Bounce and EDM. Requires registration of a free account to download.
Features
4 oscillators (with different 31 waveforms each)
1 Amp-Envelope
2 Modulation Envelopes
1 Filter (LP, BP, HP)
2 LFOs
1 Reverb
1 Chorus
1 Decimator,
1 EQ
System requirements:
Mini Bounce is a 32-Bit VST plug-in only available for PC/Windows systems (Windows XP (SP2 or later), Windows Vista, Windows 7 or Windows 8 or higher) It's recommended to use a modern PC with 4GB RAM or more with a fast CPU speed and a dual/quad core processor or higher). You also need a VST-compatible host sequencer/DAW like Cubase, Nuendo, FL Studio, Orion, Ableton
Live, Samplitude, MusicMaker etc…
Please make sure that you put the .dll-file of that plug-in in your local VST plugins folder.
Mini Bounce Notifications:
– To reset a knob, you just need to click on a knob of your wish by keep pressing the CTRLkey on your keyboard
– Mini Bounce contains 16 Voices (maximum) . If you want to create slow sliding sounds, use the Porta-knob. But that will only work in mono-mode, when the value frompoly has been set to 1. (1Voice = monophon)
Related Posts
Video
Opening Hours
Contact Form
Listings Nearby
Looking for something different? Check these nearby listings.